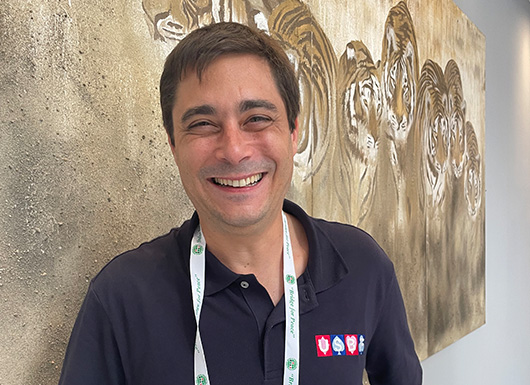 What's it like to be a coach? Here's a typical day in the life of Thomas Bessis.
By WBF In 46th World Bridge Teams Championships On 24th August 2023
---
Written by: Thomas Bessis
Live my life of USA2 coach
7.33 AM: My wife wakes up to go jogging in 153 degrees.
« I'm not coming today sweetheart, maybe tomorrow»
8.47: Time to wake up and shower.
9.12: Breakfast with opponent's Convention Cards for the day.
I highlight a couple of things in green, afer all I have to pretend I work a bit.
9.35: I look at my badge with the American flag. Still weird.
9.49: I get to the playing area.
Always the same question : where the hell is Zia's cushion ?
9.55: We find Zia's cushion. Some woman had slept with it.
9.56: Zia wants to change half of the system and starts sharing his ideas with Meck.
Meck seems absolutely delighted.
10.17: Back to the room.
Refresh. Nothing. Refresh. Nothing. Refresh. Win 13.
11.54: Back to the playing area. 4 boards left in the closed room, 2 in the open room.
I decide to wait in front of the open room.
12.03: Won 2 on board 15. Still nobody's out.
12.06: I enter the Open room and find out Brad and Joe are not there.
How the hell did that happen ?
12.07: I decide to go in front of the Closed room and wait there.
12.11: I check in the Closed room. Meck and Zia already gone.
12.16: I finally find everyone.
We won comfortably, so nobody actually notices I wasn't there.
Lunch with Zia by the pool. He gets some olives, signs a few autographs, sells a couple of books. The routine of a superstar

1.06 PM: Getting ready for the second match.
Chip smiles. Marty walks. Brad laughs. All good.
1.12: Need to make copies of our opponent's C.C. for the next days.
Jan Martel tells me it's probably not that useful as we already have 17 different summaries of each pair's system, but I don't care. I brought my green highlighting pen for a good
damn reason, and I intend to use it.
3.18: Time to compare.
Win 8. Win 12. Win 13. Lose 4. Chip's moustache goes nuts.
3.21: Marty noticed this moustache madness and wants to go for a walk.
3.25: We've said bad things about 27 different bridge players.
3.27: Marty and I are lost.
3.38: Here we go again. Have to take care of Mr Mahmood's sensitive bottom.
4.21: I feel I deserved a swim in the pool.
5.59: Win 12. Lose 5. Win 19. Mecks tells me I've been fantastic today.
6.03: Marty wants to go for a walk. Zia wants to go for a glass of wine.
I find some lame excuse for Marty and join Zia.
7.22: Here comes my most important task of the day. Pick the wine.
I'm in an adventurous mood and go Morrocan. Zia approves. Phew.
8.52: Back to the hotel.
9.43: Padel with Brink Driver and Joe.
Joe breaks a couple of rackets, but at least it's not on Brad's head.
11.42: Back to the room. Quick shower, Netflix on.
Irene falls asleep after 3 minutes, me after 7.
Need to recharge the batteries for these mashuganas.
Written by: Thomas Bessis
---