Tempting Fate
By Mark Horton In 46th World Bridge Teams Championships On 25th August 2023
---
Could R16 be the one in which Sweden's winning streak comes to an end?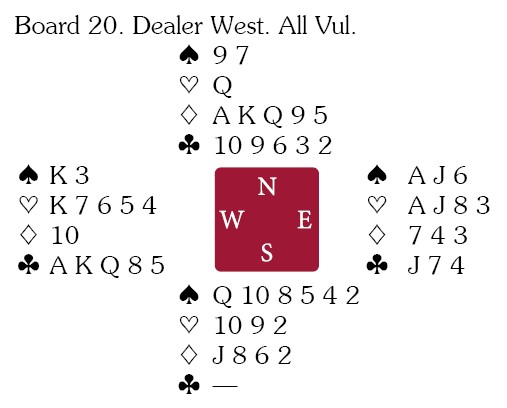 In the match between Denmark and Sweden Dorte Bilde and Anita Buus Thomsen stopped in 5
on the EW cards and when North led the
9 declarer soon had 12 tricks, +680 a result achieved at 21 of the tables. (Brazil collected +1660 and 14 IMPs for making 6
x against USA1 while Chinese Taipei collected 15 IMPs against USA2 when Yin-Shou Chen and Yin-Yu Lin doubled 6
and collected 500 when Lin led the
2 on the go, got in with a diamond and gave her partner a second ruff.) That leaves one table, and when Rasmussen led the
A against 6
and switched to a club Denmark picked up 13 IMPs.
---