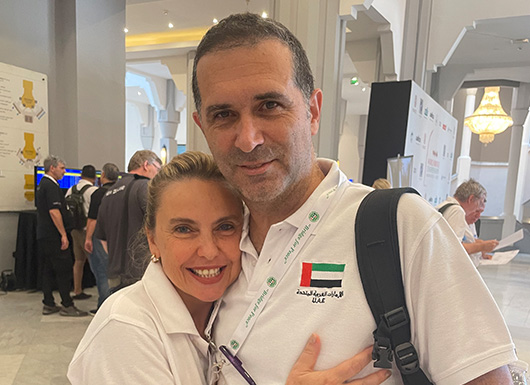 Love in Bridge
By Christina Lund Madsen In 46th World Bridge Teams Championships On 29th August 2023
---
Elvan and Timur Edis, UAE Mixed Team
I see two players from the United Arab Emirates looking at hand records and ask if I can take their picture.
The woman lovingly puts her hand on his chest, and he puts his arm around her. Always scouting for subjects for these articles I ask:
"Are you two married?"
"No, she is my sister," he replies. She laughs.
"We have been married since 1992," she corrects.
"No, since 96," he says.
I always had a weakness for couples who cannot remember how long they have been married, so I immediately ask them for an interview the following day.
We meet and go downstairs. I sit with my computer ready while they sit and study the hands records. They pay no attention to the waiting journalist, who cannot compete with the hand records. They speak English at first without even noticing it, before they switch to a language that sounds slightly familiar. I try to interrupt them gently by asking which language they speak.
Elvan: "Turkish. I am 100 % Turkish, his mother is Turkish, his father from USA." They return to the hand records and ignoring me. I notice she has some bracelets in the colours of the flag with a UAE-logo.
After a while they look up. "Oh, are you waiting for us?"
I begin by asking their age.
Elvan (after slight hesitation): "54."
Tim: "53. I am younger. Important to notice," he says. She laughs. I soon discover she laughs at him a lot.
How did you meet?
Tim: "In university in Istanbul in the same department. We are both industrial engineers."
How did your romance begin?
They laugh and she looks at him.
Tim: "We met each other and decided we didn't belong to the same social circle. The 4th year we decided otherwise."
How did you begin to play bridge together?
Tim: "We started dating and after graduation we decided: "Let's find a hobby we can do with our friends."
Elvan: "And to have a hobby in common."
Tim: "I used to play social bridge with my family, and she said "Why don't you teach us? This was in 1992. So we arranged a group of six friends. None of them play anymore." They both laugh.
"Bridge played an important part in our relationship. We separated…"
"Twice," Elvan adds.
Tim: "And each time bridge brought us back together. Elvan moved to another city for a time, and when she came back to Istanbul, we started playing bridge again. We started playing every weekend. Because we played bridge, we kept seeing each other, and the flames that were gone were reignited."
How come you moved to the UAE?
Tim: "We moved my job in 2004 and stayed. Our sons were born in 2000 and 2002, so Elvan was on a break in her career, so she moved with me. That is the toughest part about expat life When one moves, the other has to come with. We liked it. I switched jobs many times."
"So we could stay," Elvan adds, since you can only stay with a working visa.
Tim: "So we lived in the same house in Dubai for 20 years. if we had paid mortgage Instead of paying rent, we would have owned the house now," he laughs and of course so does she.
"While I was working, Elvan was looking after the boys and started a small retail company with import and export of accessories." I ask about the bracelets Elvan is wearing and she confirms they are from her business.
Tim continues: "I stopped working in the beginning of 2017. Then in 2019 I was teaching a group bridge, then another group and another came. When I quit, then instead of returning to Turkey she kept working and I could enjoy my life and started teaching bridge. So now I am her employee. She is the boss," he says teasingly and she slaps him with the hand records while laughing.
Tell us about bridge in the UAE.
Elvan: "We are a few bridge players."
Tim: "There are many expats, so there is big circulation. The locals don't play bridge. It is a city of foreigners. Our teammates are two Pakistani players and two Egyptians, and our women's team is all Indian."
How have you experienced these world championships?
Tim: "We enjoyed it. We want to cut off one of our limbs sometimes. We obviously want to do better playing bridge, but we knew this was expected. We could have prepared better."
Elvan: "Of course it is a very good opportunity to be here and compete against such good players, we have so much to discuss when we go back to Dubai. We are enjoying it a lot. We put big memories in our pockets. We want to go to the next championships."
What is your greatest strength as a partnership, on and away from the table?
Elvan (looks at Tim): "We trust each other. I think this is the main thing. We are good friends."
Tim: "We respect each other as bridge partners and life partners. We can play bridge with other people, but we prefer to play together. I could give up bridge, but I could not give up my wife."
"Thank you", she says and sends him that look again.
Then he adds: "It is a lie, but…" They both laugh and I laugh with them.
Do your sons play bridge?
Tim: "They both know bridge and our younger one got more into it, but now he is studying in USA and of course he is with his friends, and they don't play bridge. The younger generation has a problem with card games, they have video games, computer games, Ipads, mobiles. We used to play lots of cards in the university canteen and eventually became bridge players."
What would your sons say about you?
Elvan: "When we said we are going to Marrakesh to play bridge and one of them is in school and the other at work, they took time off to spend with us. We spent the last 10 days with our kids travelling all around Morocco, Rabat, Fez, Casablanca, Tangier… and then we came back to Marrakech. It was a wonderful week with the kids, we enjoy being together. I think they admire our commitment – in general and to bridge as well. It is not easy to find these days."
Which is your most memorable moment together, bridge or non-bridge related?
She looks at Tim: "This is your question," he says.
Elvan: "I cannot pick just one. It is not a moment, it is a life long."
Tim: "Me neither. I enjoy being with you the whole journey." She looks at him as if she is still in love.
I send Tim away to see if she is still as devoted when he is not around.
Describe Tim in 3 words.
Elvan (thinks a bit): "Honest. Attractive. Gentleman."
What do you think Tim will say about you?
She giggles. "Monica. In France sometimes he calls me Monica. He thinks I look like this character." She laughs so much it almost brings tears to her eyes.
"Intelligent – I hope. And mother."
I call back Tim and send Elvan away.
Describe Elvan in 3 words.
He thinks for a long time while staring intensely at the air.
Tim: "Beautiful, powerful, super."
Which three things do you think she said about you?
Tim: "I have no idea, I have no idea I have no idea." He laughs.
"Super calm, intelligent, nice."
He whistles after her to come back to us.
"All three wrong," he tells her before I have told him what she said.
"No problem, we still have time," she gently says.
I reveal that Elvan said "Monica".
Tim: "If you had told me to use one word instead of three, I would have said Monica. It sums up all the other three."
Seeing two people still flirting with each other after more than 30 years together, it almost makes me believe in eternal love again. I ask them one last question:
Who is the better player?
They look at each other for a second without replying.
Tim: "It is not so hard, this question." He winks at me.
Elvan: "He is the better player, but I am the better bidder."
Tim: "Yes we divide it like that," he says. "More politically correct." He winks again and she laughs, and he gets one last slap with the hand records, before they walk away and take the light with them.
---