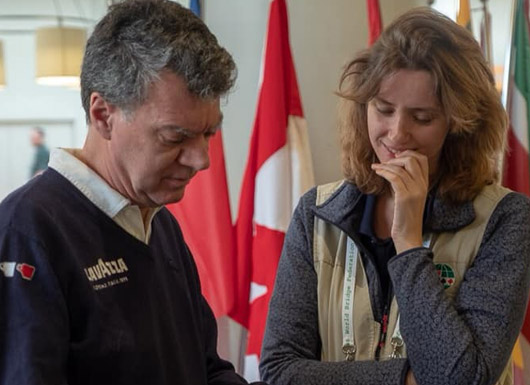 The Wild Bunch
By WBF In 15th World Bridge Series, Articles On 26th September 2018
---
News that Mel Gibson is to direct a remake of the classic Western instantly sprang to mind when this deal surfaced during the second session of the Roseblum round of 16.
No doubt someone will recognise a gap in the market and write a best-seller – 'How to deal with two Voids'.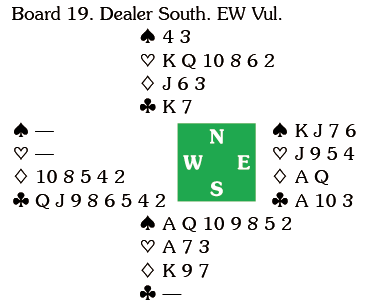 Declarer ruffed the heart lead and took the losing diamond finesse. He ruffed the spade return and ran the
Q, +950.

That meant 8 IMPs to Zimmermann.
There were swings all over the place. Robinson played in 4
doubled scoring an overtrick and collecting 11 IMPs – Chagas was two down in 6
in the replay.
Sadek never bid with the West hand (!) and Nickell stopped in and made 3
, while Strul saved over Rodwell's 5
in the other room, holding the loss to 6 IMPs.
Padon went down in 6
doubled – he followed the Rabbi's rule and played for the
K to be singleton, losing 7 IMPs as his teammates were one down in 6
doubled.
Baldysz was another who did not bid with West's cards – he lost 10 IMPs defending 4
when they were down in 5
in the Closed Room. Lavazza & Pszczola achieved an honourable draw, both sides saving over 6
in 6
.
Here are the auctions: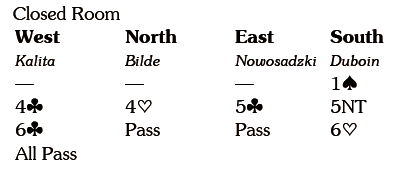 ---